Read Comedian Reviews
Show: All (default), Associations, Corporate, Agriculture, Banking, Transportation
Mississippi Loggers Association
"Jerry Carroll provided a very enthusiastic performance. Great content for any crowd." - Executive Director, Loggers Awards Banquet (Starkville, MS) 9/21/2018
---
North Dakota Stockmen's Association
"5 stars - Extremely Satisfied" - Executive Vice President, Annual Convention (Bismarck, ND) 9/14/2018
---
Farm Credit Services of America
"Jerry Carroll appealed to everyone in the audience, both young and old. He was humorous and his act was in good taste. I wouldn't hesitate hiring him again for another engagement in the future." - Vice President Appraisal, Company Team Meeting (Deadwood, SD) 9/12/2018
---
Nutrien Ag Solutions
"Jerry Carroll did a great job both relating to, and capturing our audience. People were hooked on his humor and the laughs lasted through his entire performance. He arrived early and engaged in one on one conversations with some of our guests, prior to the event starting. We would book him again in a heartbeat!" - Branch Manager, Customer Appreciation Dinner (Keenes, IL) 8/22/2018
---
Farmers Cooperatuve Elevator Co.
"Jerry Carroll was great! Very personable, friendly, and funny!!! The crowd thoroughly enjoyed him!" - Controller, Annual Meeting (Hay Springs, NE) 6/21/2018
---
Georgia Farm Bureau Foundation for Agriculture
"This is the fourth year we have held our event and Jerry Carroll was by far the best entertainment to date! He kept our crowd of farmers and friends of agriculture rolling in laughter from start to finish. The President of our company told me I had hit a home run after he finished. We'd have him back every year if we could! Thank you, Jerry!" - Executive Director, Annual Gala (Macon, GA) 3/17/2018
---
Montana State University Extension
"As our event is not a huge event and does not draw thousands of people, it is hard to find good acts that will perform at our banquet. Jerry Carroll not only agreed to perform at our show, he came early, took much of the event in, and stayed late. Anything that was asked of him he did with enthusiasm. The crowd loved his act and the organizers loved his professionalism! We will definitely ask him to come back again." - Richland County Agent, MonDak Ag Days (Sidney, MT) 3/1/2018
---
Crop Production Services
"Everyone loved Jerry Carroll, He was very personable and his show was hilarious. I am getting calls from our guest letting me know they really enjoyed his show." - Administrative Coordinator, Grower Appreciation Meeting (Spokane, WA) 2/6/2018
---
Great Falls Area Chamber
"Jerry Carroll was outstanding! His humor was good clean fun, and the crowd was engaged and laughing the entire time! We loved having Jerry and will definitely invite him back for another round!" - Agriculture Committee Chair, Agriculture Appreciation Banquet (Great Falls, MT) 1/19/2018
---
Washington State Hay Growers Association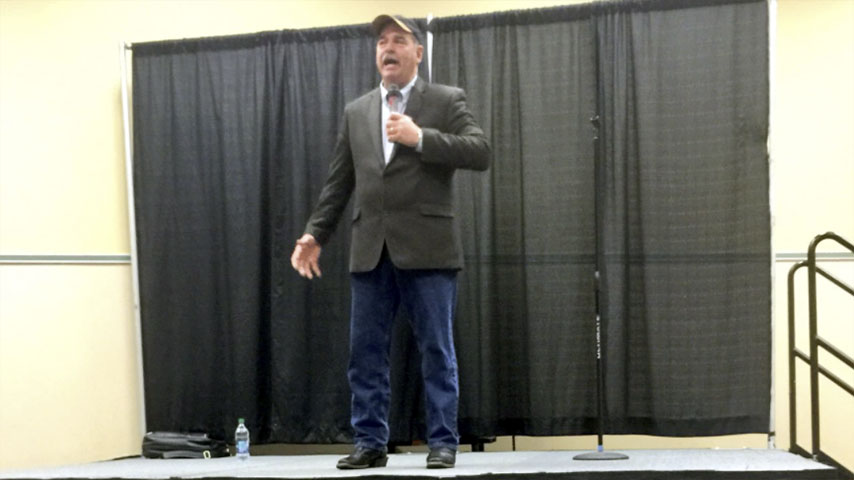 "This is the second time I have booked Jerry Carroll for one of the Organizations we represent and he was phenomenal once again. I would recommend having Jerry at any meeting/event." - Executive Secretary, Northwest Hay Expo (Kennewick, WA) 1/17/2018
---
Star Communications
"Jerry Carroll was an awesome performer. He engaged with the audience and kept everyone laughing. We all loved his country accent and especially loved the cowboy boots and hat. We highly recommend Jerry Carroll for any event!" - Community Relations Coordinator, Annual Meeting of Members (Clinton, NC) 11/11/2017
---
Wilson County GOP
"Jerry Carroll was beyond amazing! He fit in so well with our venue, atmosphere and guests. The event was a HUGE success. People are already asking for him to return next year!" - Co-Chair, Oyster Roast (Wilson, NC) 10/21/2017
---
Mid Columbia Producers, Inc.
"4 stars - Very Satisfied" - Controller, Annual Meeting (Moro, OR) 10/18/2017
---
Scott County Farm Bureau
"Jerry Carroll had the entire audience in tears with his funny stories!!" - Office Administrator, Annual Meeting (Davenport, IA) 9/11/2017
---
Crop Risk Services
"Jerry Carroll did an outstanding job and had us rolling with laughter! I'm fairly sure he may have some new prospective leads for other events from our group. Highly recommended!!" - OH Sales Manager, Regional Showcase Update Meeting (Sandusky, OH) 9/6/2017
---
Midwest Ag Service, LLC
"We loved having Jerry Carroll and we have had so many wonderful comments on how great his performance was. We greatly appreciated that he stuck around afterwards and talked with people. Thank you so much for making our customer appreciation very successful!!" - Controller, Customer Appreciation Event (Seneca, KS) 8/26/2017
---
Doebler's Pennsylvania Hybrids, Inc.
"Jerry Caroll was amazing! He related well to our entire organization and brought a smile to everyone in the room. Our group can't stop commenting on how great he was!" - Director of Sales and Marketing, Dealer Summit (Harrisburg, PA) 7/18/2017
---
Brookings County Farm Service Agency
"We were very pleased with Jerry Carroll's performance and felt he certainly met our expectations. Lots of positive feedback from the attendees, and we too enjoyed his performance. He even received a standing ovation!" - Farm Loan Specialist, Ag Women's Day (Brookings, SD) 6/13/2017
---
J R Simplot Company - Food Group
"Jerry Carroll related really well to our group. After a long day of meetings, he was just what we needed to have a few laughs and put some smiles on faces." - Senior Director Procurement, Field Department Annual Meeting (Grand Forks, ND) 5/31/2017
---
Pride Ag Resources
"Jerry Carroll did a great job and everyone enjoyed him. With his backgound our customers where able to relate to him very easy. He is very personable and the dialog was easy for the audience to envision. We were very pleased with his performance and his message at the end of the presentation." - CEO, Coop Annual Meeting (Dodge City, KS) 5/16/2017
---
Lea County Electric Cooperative, Inc.
"Jerry Carroll was great! He was punctual and put in a great show. Everyone enjoyed his show and jokes as they related to the audience. He's good!" - Manager Member Services, Annual Meeting (Lovington, NM) 4/28/2017
---
Ottawa-Carleton Celebration of Agriculture
"We were extremely satisfied with Jerry Carroll. Very good show. Very clean. Easy to recommend him to another event." - Chair, Annual Banquet (North Gower, ON) 3/31/2017
---
Albert Lea-Freeborn County Chamber of Commerce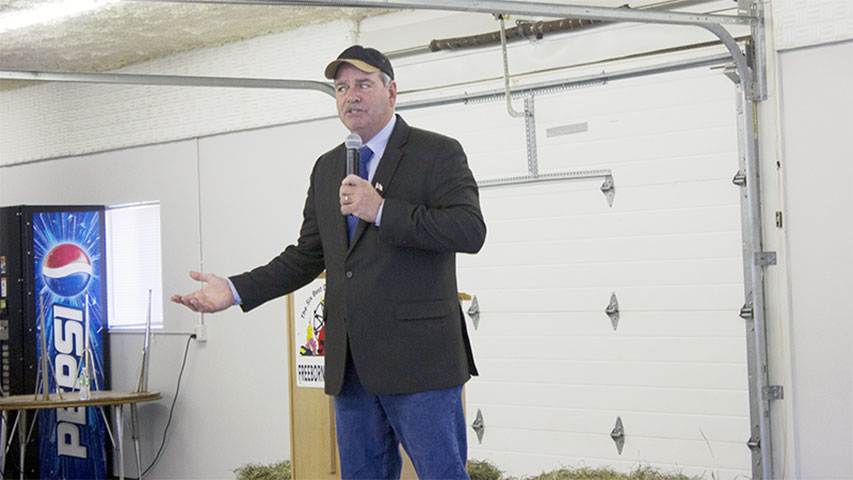 "Jerry Carroll is wonderful. He kept our audience interested, and they really enjoyed him. I have had good feedback from the people that had came to the event. He got everyone one to laugh and smile. He was excellent, awesome." - Program & Event Manager, Annual Agriculture Banquet (Albert Lea, MN) 3/21/2017
---
CHS New Horizons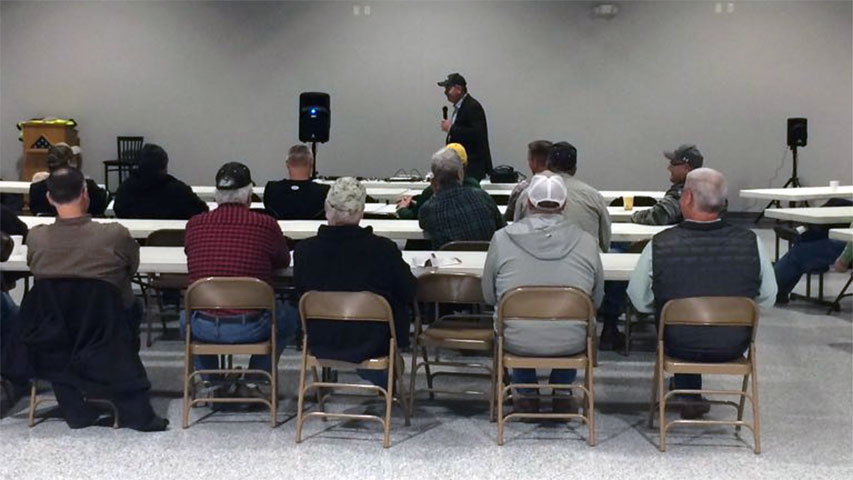 "Jerry Carroll was a perfect fit for our audience. His stories are relatable to anyone who has ever been on a farm." - Sales/Agronomist, Ag Trade Show (Chokio, MN) 3/9/2017
---